IMSE is Here to Support
You and Your Growing Reader.
Early literacy development is vital to a child's success in school and beyond.
Even if you took to reading and writing naturally as a child, you shouldn't
assume that your children will too. That is why it is important to nurture their
literacy skills and understand how the brain learns to read.
 
Where Do I Start?
For the best start, parents should understand the five essential components
to reading instruction and how they best fit in each grade level. These
components include:
Phonological Awareness

Phonological awareness The awareness that words are composed of sounds and those sounds have distinct articulatory features.

Phonics

Phonics Phonics is the ability to recognize letter-sound relationships in words.

Fluency

Fluency Fluency is the ability to read at an appropriate pace with accuracy and proper expression.

Vocabulary

Vocabulary Vocabulary size and word-meaning strategies predict comprehension.

Comprehension

Comprehension Understanding the meaning of text and integrating it with previous knowledge.
How Can I Help My Reader at Home?
Find more information below for age and grade level appropriate skills and
activities. We encourage parents to begin activities in the lower levels to help
analyze your child's development.
Pre-Kindergarten (Birth - 4 Years Old)

Phonological awareness is the foundation for learning to read. Phonological awareness skills begin to develop as a baby and throughout preschool beginning with the concept of a spoken word, recognizing and producing rhyme, and transitioning into syllable awareness around kindergarten. You can help your child develop these skills by making language a part of daily life.

Check out these Phonological Awareness Resources for parents of students in pre-kindergarten:
Kindergarten - 2nd Grade (5 - 7 Years Old)

Once students enter kindergarten, they will move into more advanced phonological awareness skills and begin to be taught foundational phonics skills.  Setting the foundation with phonological awareness and phonics will help children prepare for more advanced concepts helping them develop into fluent readers.  Fluency is the bridge to comprehension and typically develops around first grade.  Fluency can be practiced in several ways, including repeated readings, reader theaters, and decodable readers.

Check out these Phonological Awareness, Phonics, and Fluency Resources for parents of students in kindergarten through second-grade:
3rd Grade and Beyond (8+ Years Old)

Around 3rd grade, there is a shift from learning to read to reading to learn. While many students may begin to read more for pleasure at this point, comprehension can be significantly affected because of the lack of vocabulary knowledge.  Over half of the words students will encounter in texts will be multisyllabic.  It is essential that students be taught prefixes, suffixes, and base words.  Common Latin and Greek bases can be introduced after that.  Breaking words down to the smallest units of meaning, called morphemes can help students build understanding and increase comprehension.

Check out these Fluency, Vocabulary, and Comprehension Resources for parents of students in third-grade and beyond:
Steps for Parents of Struggling Readers
Ensure you are doing all that you can to help your struggling reader by taking the
below steps to address your child's learning both at home and in the classroom
 
3. Communicate
Communicate any concerns you may have about your child's reading with their teacher or principal.
5. Inquire
Inquire about programs and materials you can be using at home to help with reading support.
6. Observe
Ask to sit in on your child's reading lessons to understand how they best learn.

Explore Free Resources
IMSE is constantly providing free resources for parents to use with their struggling readers at home. Be sure to follow IMSE on Instagram to learn how you can use these tools at home.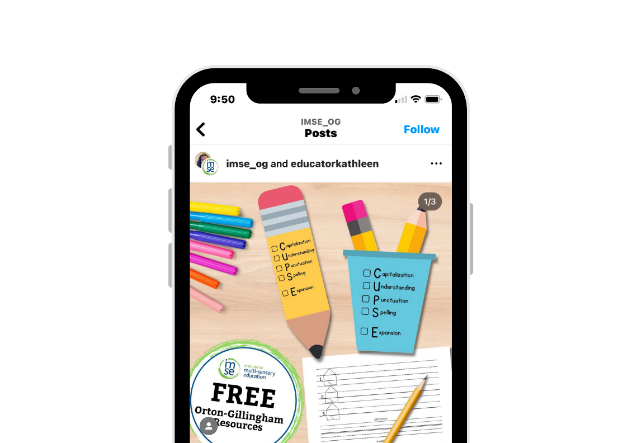 1-in-5 Children Struggle with
Dyslexia. Know the Signs!
Visit our Orton-Gillingham.com resource site to
learn more about dyslexia and resources to help
you understand how to effectively teach all
children to learn to read.
Looking for an IMSE-Trained Tutor?
Many of IMSE's Instructors and certified members are also tutors in their areas.
Search our database to find an IMSE-approved tutor near you.